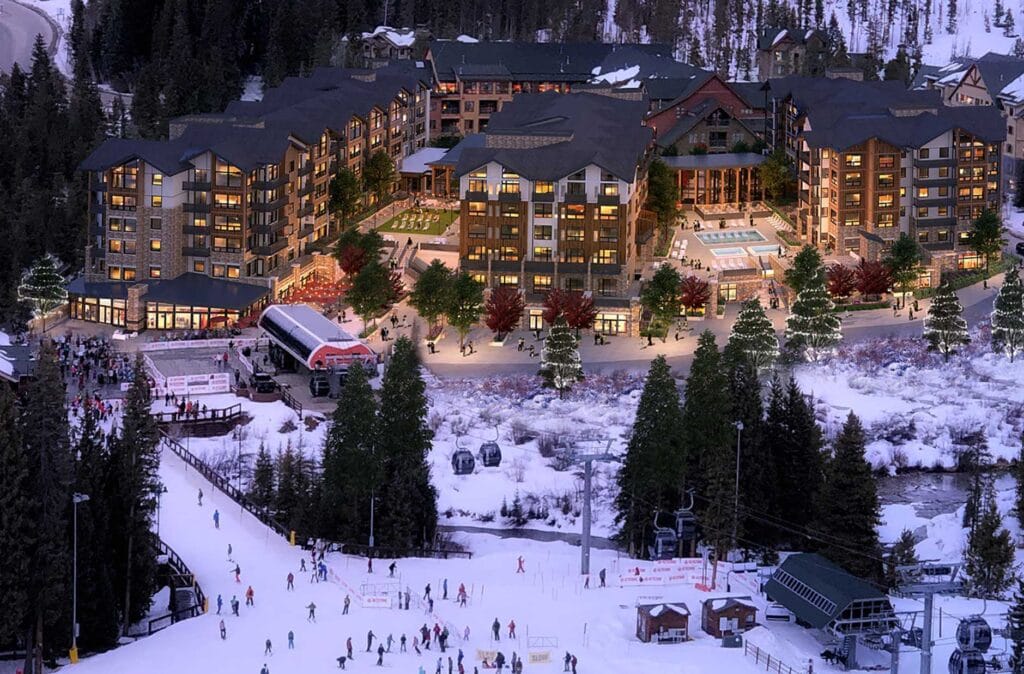 This week, OZ Architecture joined owner Kindred LLC, Liv Sotheby's, general contractor PCL Construction and operator RockResorts for the groundbreaking of Kindred Resort, the first significant development project at Keystone in more than two decades.
Located in River Run Village at the base of the River Run gondola, Kindred Resort will be a state-of-the art, amenity-rich, mixed-used development featuring a luxury 107-key hotel as well as 95 for-sale condominiums, three restaurants, a mountain club, a day spa, a pool amenity, public courtyards and gathering space, the new Keystone Ski & Ride School, and ski retail/skier service space.
This dynamic development – which sits on 4.5 acres of the most prime ski-in/ski-out land remaining along the ski resort – will further position Keystone as one of North America's great four-season resort destinations. While the property had been considered by several developers over the past 20 years, today, the market is ready to embrace a hotel and larger for-sale residences at Keystone, and Vail Resorts is eager to upgrade the base facilities. Kindred is coming online at the perfect time to ensure a successful property and will become a new front door to River Run for skiers and mountain enthusiasts.
Creating a Year-Round Social Hub
Envisioned as the anchor to River Run Village, Kindred's form is broken up into three parts that are all connected by one base that is open to the public and rich in amenities. Each of the sections above this base are oriented to preserve view corridors from neighbors as well as to allow all guests and owners within the building to have views toward Keystone Mountain.
"In ski and beach resorts, buildings that are positioned perpendicular to the prime views help to create an equality of experience from all of the units and allow guests to see the mountain from almost all rooms," says Rebecca Stone, Principal at OZ Architecture.
Given the prominent role of Kindred in the River Run Village experience, the OZ Architecture team was careful to thoughtfully program the spaces in between and adjacent to the guestrooms to encourage interaction and invite discovery.
Plazas and courtyards offer a variety of compelling experiences – from quiet moments in nature to lively social gatherings. The building's base, or podium, includes two outdoor plazas, both facing south, which create 'eddies' in which to socialize and gather along the Snake River below with Keystone Resort as the backdrop.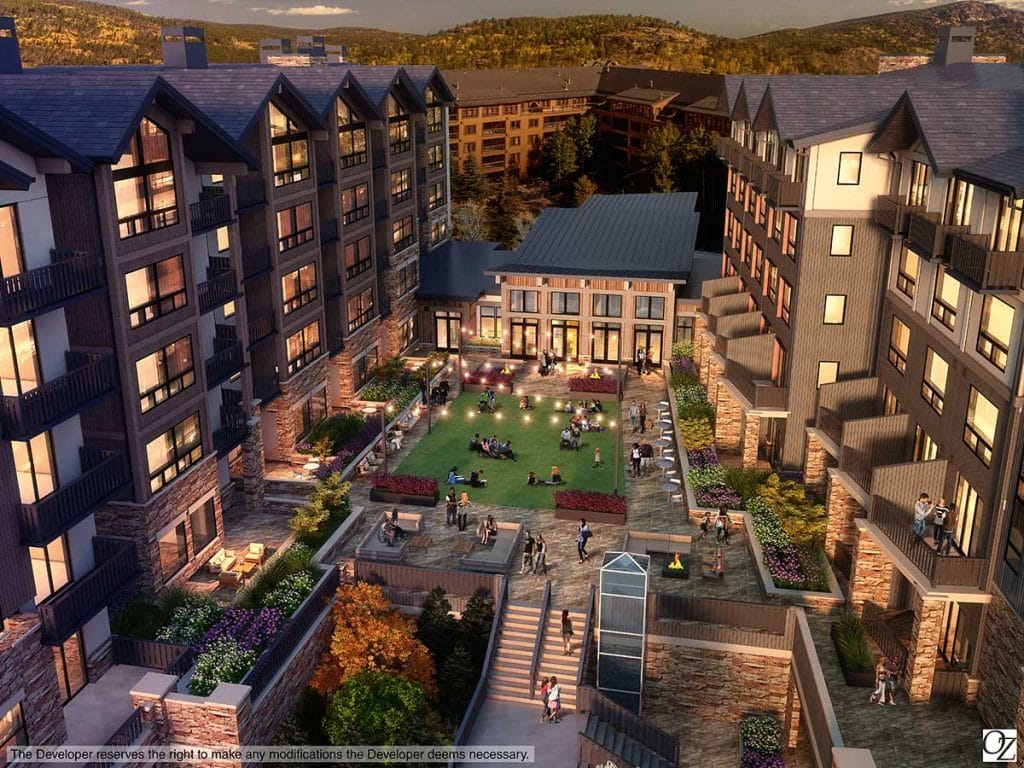 One plaza is designed for events, with outdoor seating, fire pits and a direct connection to the lobby bar of the hotel so that guests, locals and skiers can mingle and enjoy the space. The other contains a pool amenity for hotel guests and an outdoor event space that spills from the adjacent ballroom through large glass windows, creating an indoor-outdoor experience. Both plazas are connected directly to the gondola plaza below by grand stairs and a lift.
The on-grade plaza will extend from Ina's bridge along the river's edge, creating a vibrant, pedestrian-friendly experience for all guests of Keystone Resort. The design team worked closely with both Vail, who operates the ski hill, and the Keystone Neighbourhood Company, which plans events and festivals in River Run Village, to create a space for all guests that works operationally, blends into the existing resort context and fills a void in the Village today.
"We have been waiting a long time for this development to happen in River Run," said Mark Mathews, Director of the Keystone Neighbourhood Company. "This resort will significantly enhance the guest experience in the Village."
In addition to the outdoor space, the gondola plaza will become home to three new food & beverage venues, a ski valet, a mountain club, a day spa and hair salon facility, ski retail/skier services and a children's ski school – all located at the base of the hotel, ensuring the ground level will always thrum with activity.
Designing for Health & Connection to Nature
In warmer months, the resort will offer cyclist services, including rentals, bike valet and storage. The development also connects to the bike path along the Snake River. Kindred will extend that amenity with bike racks and rental opportunities for guests of the resort, contributing to activation of the resort year-round.
The landscaping, by Norris Design, will feature modern and experiential land art, reinforcing a unique sense of place. Planting beds woven around the plazas, the building entrance and paths will create a welcoming soft buffer between the pedestrian realm and the architecture. Trees and shrubs will provide a comfortable human scale and enhance all the outdoor amenity areas and gathering spaces while also blending the urban feel of River Run Village with the natural landscape of the adjacent riparian areas of the site.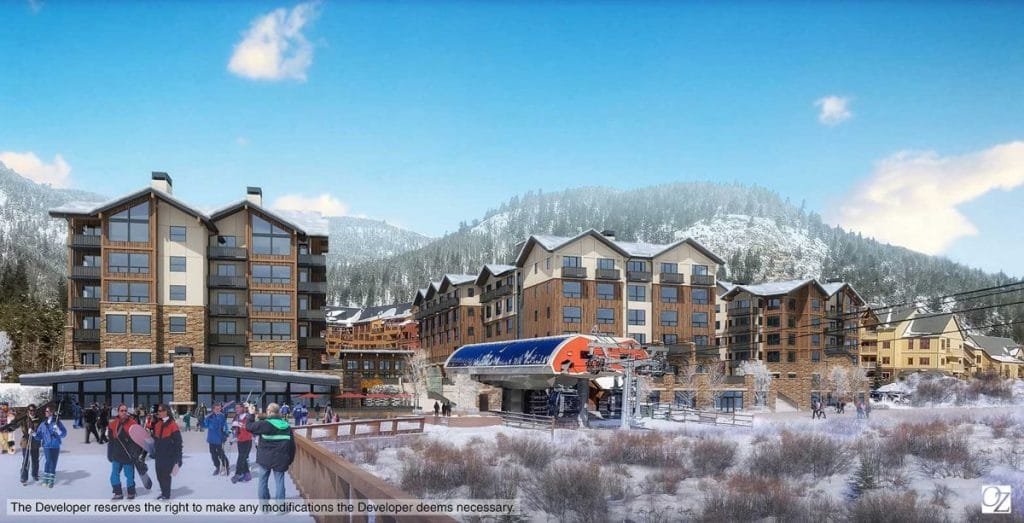 In line with the resort community's sustainability goals, Kindred is aiming to achieve Green Globes for New Construction certification. This program prioritizes environmental sustainability, the health and wellness of future tenants, and resilience of new construction projects through the latest science, research, and alignments with technical advancements.
"Achieving positive performance and stretching our clients and our designs to reach ambitious environmental responsibility and sustainability is a major priority for all of our projects at OZ," Stone added. "The Ownership and Operations teams have embraced this for Kindred, and we are excited to be the first Green Globes for New Construction of this size in Summit County".
Modernizing the Mountain Resort Experience
"Across multiple levels, Kindred will offer a modern luxury resort experience that respects the history of the River Run Village while meeting the needs and preferences of today's traveler," said Scott Russell, Kindred Resort LLC.
Kindred Residences will offer 1- to 4‐bedroom multi‐family condominium units ranging in size from 750 square feet to 1,800 square feet. Each residence in this building includes a fireplace, large windows, both ensuite and guest bathrooms, luxury kitchens with open plans to large living spaces, fresh finishes, a custom furniture package option, in‐unit washer/dryer, ample storage space, and almost all have private patios.
The Hotel Building includes 107 standard hotel units of approximately 450 square feet each. The rooms host space to hang outdoor equipment in the entries, spa-like bathrooms with large showers, trough sinks and enclosed water closets, luxury finishes and furniture throughout and big windows to catch the views of night skiing at Keystone.
"The mixture of room types here will allow multiple generations to travel together more easily and ensure guests of different income levels will be able to enjoy a stay at the base of this world-class resort," said Stone. "Having both for-sale residences and hotel rooms in the project means more options for room types at different price points – this is a growing trend we're seeing new mountain resort offerings
Designing for Connections to People and Place
Throughout the interiors, the idea of connection – to both people and nature – was a driving force. While the design makes use of traditional mountain building materials such as heavy timber and cross laminated timber (CLT/mass-timber), exposed rafters, wood trusses and accents and a stone base to connect the project to the character of the surrounding environment, the application is decidedly modern.
Cleaner lines and a more modern application of these traditional alpine materials, along with a well-thought out massing and simplistic building forms, creates a more transitional mountain aesthetic to the exterior.
"We are excited to be bringing a fresh look to Keystone and to resort architecture that still feels contextual to this community while offering something that feels both timeless and current," said Ryan Geller, Kindred Owner.
The lobby is envisioned as the heart of River Run Village – a living room where everyone is welcome 365 days a year. A massive custom steel fireplace, reminiscent of the mining heritage of Keystone, and cozy bar area invite both visitors and guests to gather. Biophilic materials, intentionally positioned view corridors and indoor-outdoor programming offer a constant reminder of place and an invitation to explore.
"The curation of the food and beverage experience at Kindred is additionally consistent with trends we're seeing in the resort industry to provide guests and visitors with more compelling, locally focused dining experiences," said Shervin "Shevy" Rashidi, Kindred Owner. "Visitors and resort guests at Kindred will have the option of dining at any of three boutique food and beverage concepts, offering everything from a three-meal hotel restaurant, a casual après, a vibrant bar, a small surprise venue that will be a guest favorite, to a more elevated dining experience. These spaces will each have a unique flare and are designed with outdoor dining as an option – both to enhance the guest experience and to draw in passersby, reinforcing Kindred as the social epicenter of River Run Village."
When it opens by the holiday season 2025 Kindred promises to bring a new level of vitality to Keystone River Run experience, and we can't wait to see this project – so long in the making – coming to life.