4 bedroom, 4 bathroom
2046 sqft
$4,595,000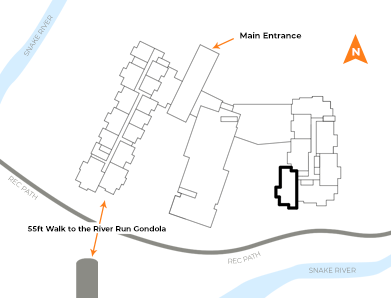 The E107 residence at Kindred is a premier 4-bedroom, 4-bathroom condominium spanning 2,046 square feet. This property offers an exceptional feature of a private patio of 505 square foot located adjacent to the Pool Deck. This private outdoor space is one of the largest at Kindred and provides ample room for outdoor living and entertainment.
The private patio offers landscaped privacy, allowing residents to entertain and relax.  Furthermore, the patio provides unobstructed views of the River Ski Slopes, Snake River, wetlands, and ponds, creating a picturesque backdrop for outdoor enjoyment.
This one-of-a-kind legacy property is situated above the Kindred Spa, Kindred Ski Club, and River Run Ski School, offering convenient access to a range of luxury amenities. Residents will have generations of enjoyment with easy access to all the amenities that Kindred Resorts has to offer.
The kitchen features top-of-the-line appliances, ensuring high-quality performance and luxury for culinary needs.
The price of this residence is listed at $4,595,000.
This residence features the VALLEYS finish package. Learn more about the finishes for this luxury residence.
*DISCLAIMER: Renderings & representations are conceptual. Finish & appliance packages are subject to change.
Contact us for more information on this unit